Shine Your Vibe
vibrant, expressive works to feed the soul
"Bitter / Sweet" Portrait Paintings
Tantalizing and sassy portraits painted on found James' Salt Water Taffy metal sheet pans featured in my art installation for "ARTeriors at The James"
"Bitter / Sweet" Installation x ARTeriors The James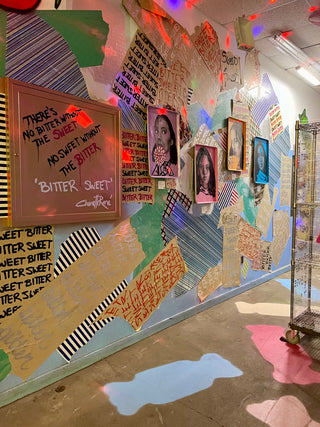 "No Bitter without the sweet; no sweet without the bitter"
"Bitter/Sweet" is my art installation created for "ARTeriors at The James" and inspired by the former James Candy Company on the iconic Atlantic City Boardwalk. The concept explores the duality of two opposing forces in an immersive experience featuring found and repurposed confectionery materials. The aesthetic is a push and pull between the bold/expressive BITTER and the soft/ethereal SWEET.
ARTeriors transforms a property in transition into an immersive pop-up art installation featuring 15+ artists at the James' Salt Water Taffy, 1519 Boardwalk, Atlantic City.
Opening Reception / Party:
Friday, November 10 from 6-9pm
Exhibit Hours:
Nov 11 - Dec 10
Saturdays & Sundays from 11am-5pm
Featured In
"NJ artist marks women's history month"
10

Nov

ARTeriors at The James

Nov 10 - Dec 10, 2023

The James Candy Co, 1519 Boardwalk, Atlantic City, NJ

Opening Reception: Friday, Nov 10 from 6-9pm (tickets)
Exhibit Hours: Saturdays & Sundays, Nov 11 - Dec 10 from 11am - 5pm FREE
Supporting Mental Wellness
We partner with mental health advocates and self-care initatives
Artist-Grade Materials
Fine art made with intention and love, using high-quality archival materials
Happy Customers
Delighting art collectors and customers throughout the country
Buy Now Pay Later
Pay in installments with 0% interest and no extra charges through Shop Pay